Following January's record sales, we are continuing to see very strong growth in EV registrations. The UK has seen a sizeable increase of 14.3% in EVs registered YTD (end April) compared to the same time last year. Within the category we can see that Hybrid Petrol-Electric cars are the most popular option with 4.2% of the overall new car market, followed by plug-in hybrid EVs with 1.2% share.
According to the SMMT (Society of Motor Manufacturers and Traders), the increase is in line with the latest forecast for this sector, currently expected to rise to around 177,000 units by the end of the year. 86,000 of these cars are expected to be low emission plug-in hybrids and battery electrics - taking plug-in market share to around 3.7% as an ever-increasing number of models come on sale.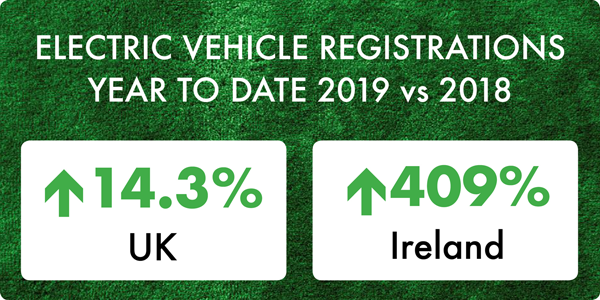 IRELAND
According to SIMI (Society of the Irish Motor Industry), there has been 1435 zero emissions cars registered in the first quarter of 2019 compared to just 282 for the same time last year. This represents a massive increase of 409%. Alongside the Nissan Leaf, a new entrant to the Irish market shares the top spot in this category - the Hyundai Kona. This compact SUV is the first mid range 'family' car to hit the electric market so its immediate popularity is unsurprising. At the premium end of the market, the BMW i3, Jaguar I-Pace and Tesla have begun to make their mark with 116 vehicles sold between them.
Significant growth can also be seen for petrol/ diesel plugin electric hybrids with an increase of 33%. A hybrid vehicle works from both fuel and a battery, however plugin models produce significantly less emissions. Within this category we can see that that Toyota dominate the top 10 with their range of options including the new hybrid Corolla. Land Rover has entered into this category with two types of Range Rover, 109 of which were registered in the first quarter.
Sources
https://www.smmt.co.uk/2019/02/british-new-car-registrations-dip-1-6-in-january-but-demand-for-electrified-models-surges/